Accelerometers are used to measure vibration in engineering units of acceleration ('G' unit), where 1 g = 9.81 m/s2. They can be used in order to measure vibration in vehicles, machines, buildings, seismic activity, etc..
Applications of Accelerometer:
Machine Condition Monitoring
Modal Analysis
Hammer Impact Test
Balancing
Structural Health Monitoring
Seismic & Earthquake Monitoring
Product Shock/Drop Test
Aerospace/Flight Test Analysis
Shock Blast Testing
Vehicle Crash Test
Vehicle Human Comfort Test
NVH Testing
Transportation/Shipment Shock Detector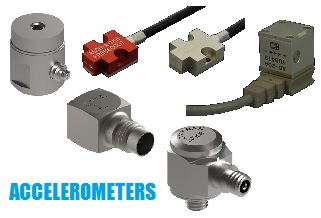 We provide a wide range of accelerometers to meet the various vibration testing & measurement application requirements.
DYTRAN Piezoelectric (IEPE or Charge) Accelerometers with wide bandwidth up to 20kHz. Suitable for dynamic vibration applications.
DYTRAN DC MEMS Accelerometers with bandwidth up to 3kHz. Suitable for low frequency vibration applications.
KYOWA Piezoresistive (Strain gage based) Acceleration Transducer with bandwidth up to 7 kHz. Suitable for low frequency vibration applications.
Featured Products