We provide a wide range of displacement sensors from KYOWATM to measure micro to large relative and/or absolute displacement from a reference point.
Applications:
Structure Vibration Testing
Crack Measurement
Vehicle Body Strength Test
Biomechanics Studies
Production Process Control
Miniature Position Control Elements
Linear & Angular Motion Control
Dimensional Gauging for Quality Control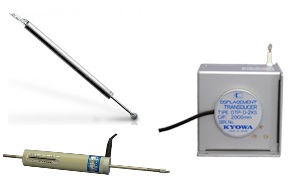 Featured Products
Displacement Sensors
KYOWATMdisplacement transducers are based on strain gage or potentiometer as sensing element, and receive minimal aging, thereby enabling long-term stable measurement. The displacement transducers are available in rated capacities ranging from 2 mm to 5 metres. KYOWA displacement measurement system is shown in below system overview.