Digital Telemeter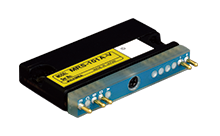 MRS-101A-V
1ch-Voltage Transmitter. Voltage input type of KYOWA Digital Telemeter, MRS-100 series.
Measuring Target: Voltage
No. of channels: 1
Measuring Range: 5, 10 V
Sampling Frequencies: 4.8 kHz
A/D Resolution: 16 bits
Data Acquisition Hardware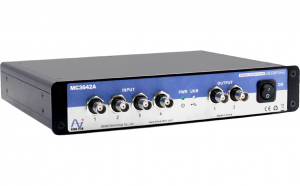 Data Acquisition Hardware, MC3642A/B
4-channel data acquisition developed by BSWA Technology.  It includes 4 input channels (with 4 adjustable gains) and 2 output channels, can simultaneously analyze 4 channels of acoustic and vibration signals.
Input Channel: 4, BNC with adjustable gain, ICCP power supply (4mA/24V) and AC/DC mode switch (software selectable)
Max Input Voltage: ±10Vpeak (0 dB gain) (for MC3642A) | ±31.6Vpeak (-10 dB gain) (for MC3642B)
Output Channel: 2
Max Output Voltage: 1.8Vrms
Input Frequency Response: 2 Hz ~ 50 kHz (±0.5 dB, input sampling rate 128 kHz)
A/D Resolution: 24bits
Sampling Rate: Input: 1 kHz ~ 128 kHz, Output: 8/16/32/44.1/48/96 kHz
USB Interface: USB-Type B, USB 2.0 Compliant
Power Requirement: External DC power supply 7V ~ 14V (1 A)