We provide a full range of dynamic vibration & shock measurement system from low cost shock detectors, shock & vibration loggers and 6DOF vibration & angular rate recorder to full-featured standalone shock & vibration waveform recorders with high speed/large memory units for demanding measurements.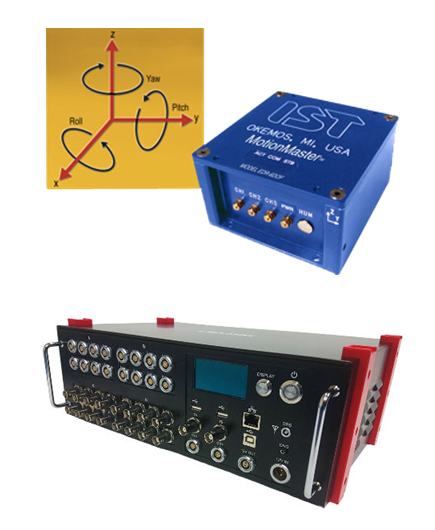 Applications:
Rail car Coupling/Humping Impact
Drop Testing
Helmet Impact Testing
Package Shipment Monitoring
Package Drop Height Measurement
Ride Quality Measurement
Transportation Monitoring
Crash & Impact Testing
Aircraft Turbulence
Elevator & Escalator Monitoring
Aircraft Maintenance
Brake Testing
Featured Products
Shock Detector / Shock & Vibration Data Logger
IST offers a wide range of Shock Detectors and Shock & Vibration Data Loggers which have built-in internal accelerometers, optional external input accelerometers and memory storage to record both shock & vibration events.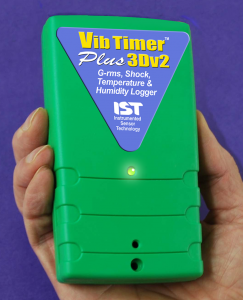 VibTimerTM Plus 3Dv2
Low cost 3-axis G-rms and Peak Shock Data Logger
Full Scale Measurement Range: 16g, tri-axial
Temperature Measurement Range: -40 to 160 °F
Humidity Measurement Range 0 to 100%
Maximum number of g-rms Vibration Readings: 10,000
Maximum number of Peak-G shock Readings: 10,000
Operational Battery Life: 3+ months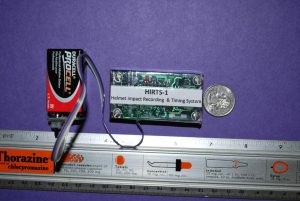 Helmet Impact Recording System (HIRTS-1)
3-axis accelerometer & recorder
Records peak shocks, total energy, duration, date, time
Ranges from 100 g to 2,000 g.
Threshold triggered
2,500 event memory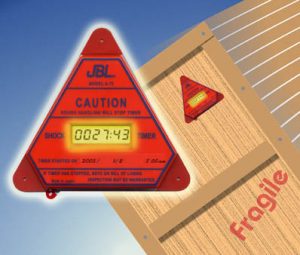 Shock Timer
Low Cost, Disposable Shock Detector for Shipment Monitoring
Live LCD Time Display, Once Activated
Bi-axial Sensor, Completely Self Contained
Rough Handling "Freezes" the Clock
4-Month Battery Life Once Activated
6-Month Shock Time-Stamp Retention
Available in 25g or 50g Trip Level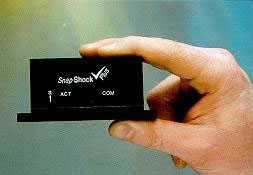 SnapShock Plus
Acceleration Recorders
Models SSP-2000-1D, SSP-4000-1D, SSP-4000-3D
Self Contained Acceleration Event, Date, Time Recorder
Single Axis and Tri-axial Accelerometer Models
Full Scale g-measurement ranges from +/- 2g to 2,000g +
Measures & Records Peak Shock Level, Duration, Velocity Change (energy), Date & Time
Programmable G-Trigger Levels
Stores up to 5900 Readings
Rugged, Water-Resistant Housing
12 Bit A/D for Improved Accuracy
1200 Hz Digitization Rate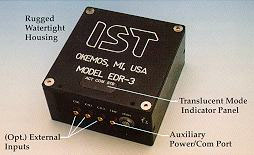 EDR-3C & EDR-3D
Shock, Vibration & Environmental Recorders
Measures Shock, Vibration & Temperature
Up to 6 High-Speed Accelerometer channels
Built-in piezoresistive Tri-axial Accelerometer
External input channel options for PE voltage mode accelerometers
Full scale g ranges from 2g to 500g
Sampling Frequency to 3.2 kHz/channel
Continuous recording from minutes to hours depending on memory & sample rate
Triggered recording up to several months or monger
5,291 "event" memory capacity
All events date/time stamped
Battery powered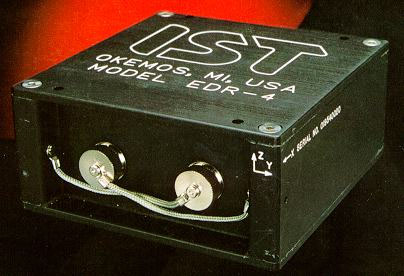 EDR-4
Shock & Vibration Sensor / Recorder
3 & 6 Channel Capabilities
Internal Tri-axial Accelerometer
Optional External Tri-axial Accelerometer
12-bit A/D, 74dB Dynamic Range
Programmable Digitization to 15 KHz/CH
Programmable Time or Event-Based Triggering
6 MB Onboard Memory, Expandable to 108 MB
Battery powered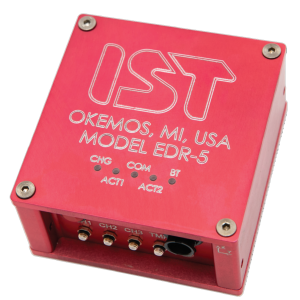 EDR-5
Shock & Vibration Recorder
Up to six 50kHz Accel channels
Built-in Tri-axial accelerometer +/-10 to +/-200 g fs range
External Accelerometer Input Channels
12-bit/16-bit digitization
Programmable Digitization to 50 sps/channel
Programmable Triggering Schemes
Nonvolatile memory to 64GB
Re-chargeable lithium-ion batteries
Battery life to 90 days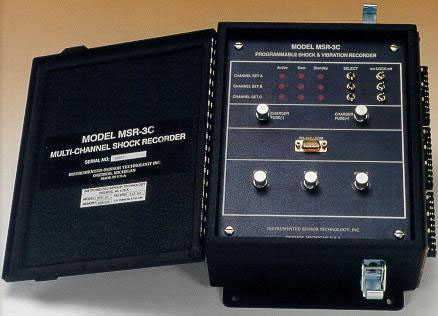 MSR-3C
Multi-Channel Shock & Vibration Data Logger / Recorder
Programmable Sample Rate To 3200 sps/ch
Up to 9 External Accelerometer Channels Recording Capability
3MB To 12MB Onboard Storage
54dB Dynamic Range (10-bit A/D)
3-Channel Temperature/Humidity Option
Battery powered
Automatic Date & Time Tagging On Records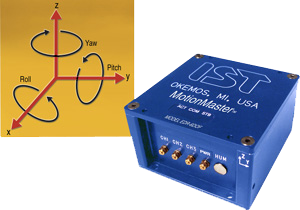 MotionMaster® (Model EDR-6DOF Series) Portable Recorder
Onboard 3-axis linear accelerometers – X,Y and Z axis
Onboard 3-axis angular rate sensors – Roll, Pitch, Yaw
8MB onboard data storage
Simultaneous 6-ch digitization of 3200 sps/ch
Completely user programmable
Battery powered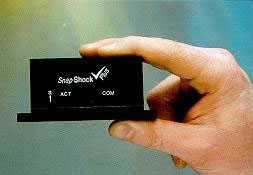 Atmospheric Pressure Logger
Model SSP-4000-P1R1  (Same housing as SnapShock Plus)
Records High Speed Atmospheric Pressure, 0 to 1 atm.
Rate of Descent for parachute testing
Compact, self-contained, battery powered
Wireless data interface
40 minute record time at 10 samples/sec
Multiple triggering schemes
Pre-trigger capability
Date & time stamped readings
Non-volatile memory
1.6″ x 3.2″ x 1.5″, 7 oz.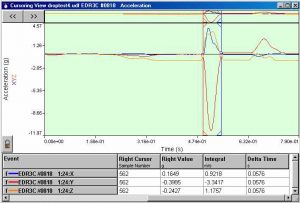 DynaMax Suite
Control, Data Acquisition and Data Analysis Software
Support for all IST shock & vibration data loggers.
Configure Recorder setup.
Download data from data loggers.
Data Analysis functions:
Time domain
1st and 2nd integral of acceleration waveform data
Calculate the 1st derivative of an acceleration waveform. Commonly known as "Jerk" in crash data analysis.
PSD, FFT, DFT
Probability Density Function
Transmissibility
Shock Response Spectrum
Drop Height Analysis
Package Profiler
Shock & Vibration Data Logging System (High Sampling, Large Memory)
PROSIG offers Standalone Shock & Vibration Data Logging System which can record shock and vibration waveforms at high accelerometer channels (up to 32 channels, high 24-bits resolution and high sampling frequency to solid state storage). The system can be remotely accessed to configure settings, view the real-time vibration waveforms and download data via WiFi, Ethernet or USB.